LISA the Hopeful
A downloadable fan game for Windows
A hopeful adventure in a world of morons and despicable perverts
Based in the setting established by Lisa the Painful creator Dingaling, go on another apocalyptic journey with a band of idiots looking to be the first to find the last living girl.
A whole new part of Olathe to explore with five main acts (Around 4+ hours of gameplay)
A brand new perspective and sweet delicious plot that will keep your attention
Challenging yet fun battles against monsters, mutants, idiots and lovely people
Three main characters with a diverse set of skills and abilities that allow the player to come up with their own tactics and strategies
PAIN MODE for masochists and fun-haters
A main familiar choice that will alter the course of your story, and two main endings... and maybe more?
UPDATE:

There was one. Check out the new trailer.
Please update to the latest version before making bug reports, thanks. Also, discord link for discussion (copy paste): https://discordapp.com/invite/r7gPM3z
---
One of the musicians who contributed music for the game now has a bandcamp album with his contributions to Hopeful - check 'em out, listen to 'em, and give the man some cash if you feel like it. He deserves it.
https://jdubbs.bandcamp.com/album/lisa-the-hopeful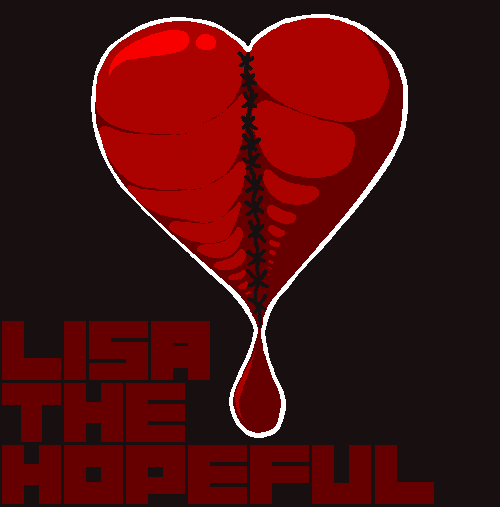 WIKI LINK: http://lisa-the-hopeful.wikia.com/wiki/Lisa:_the_Hopeful_Wiki
Q. My game closes on start up or gives me an error message that I'm missing a file.
A. Remember to extract the RAR file with an unzipping program like WinRAR, and you must have admin permission on your computer.
Q. I can't run/find the executable because I'm on a Mac.
A. As of right now, the game only runs on Windows. That'll be changed soon if things work out, so keep checking back.
Q. My game is lagging a lot and skipping frames.
A. Open up the game and press F1 to open up the options menu. Click the graphics tab and turn off Frameskip. (Not available in the default/old RPG Maker Launcher named 'Game')
Download